SnowBeast #13
Legal Name: Sarah Snow
Derby Name: Snowbeast
Derby Number: 13
What is the meaning behind your derby name and number?
It's a play on my last name and one of teammates (Keyes) nicknamed me that. My number is the year I started playing derby.
Why Roller Derby?
Correct question is why not? I played sports my whole life and loved to roller blade so I thought that derby looked like a lot of fun. It's been an amazing experience. While transitioning to quad skates was tough, the friends I have met have made it the time of my life.
Blocker, Pivot or Jammer?
Any and all. I probably Jam the most of the three.
Favorite song to skate to?
Kiss with a fist by Florence and the Machine
Do you have any pre bout rituals? What are they for Home and Away Bouts?
Drink plenty of water and listen to music.
Favorite Book, Movie, and Album
Harry Potter and the Prisoner of Azkaban, Pride and Prejudice, Jack Johnson Brushfire Fairytales
Favorite Quote
"Whatever you are be a good one. "- Abraham Lincoln
What do you do outside of Derby?
I am a Massage Therapist who loves to hike, go for walks and play with my furry children.
What advice would you have for anyone interested in derby?
Try it and don't give up on yourself. Don't be afraid to ask questions and enjoy the journey. Also invest in great pads ☺
In a few words can you explain how derby has affected your life?
Before derby I was kind of a mouse of a person, timid and never like to rock the boat with people. Since joining derby I feel more confident in myself and ideas and tend to be more outgoing than before.
What are your future derby ambitions?
I am currently NSOing and helping in the league. Its been an amazing experience to see the officiating side of derby. I then hope to return to my skates and play in a tournament.
Who do you admire in Roller Derby?
I've had a great number of local friends and teammates who have inspired me to do my best or try new things. Demon, Ruby, Keyes, TsuAmy, Cryer, Bob L. Head, just to name a few. I really love my teammates! Big names in derby I adore are Jackie Daniels, Scald Eagle and Vicious Van GoGo.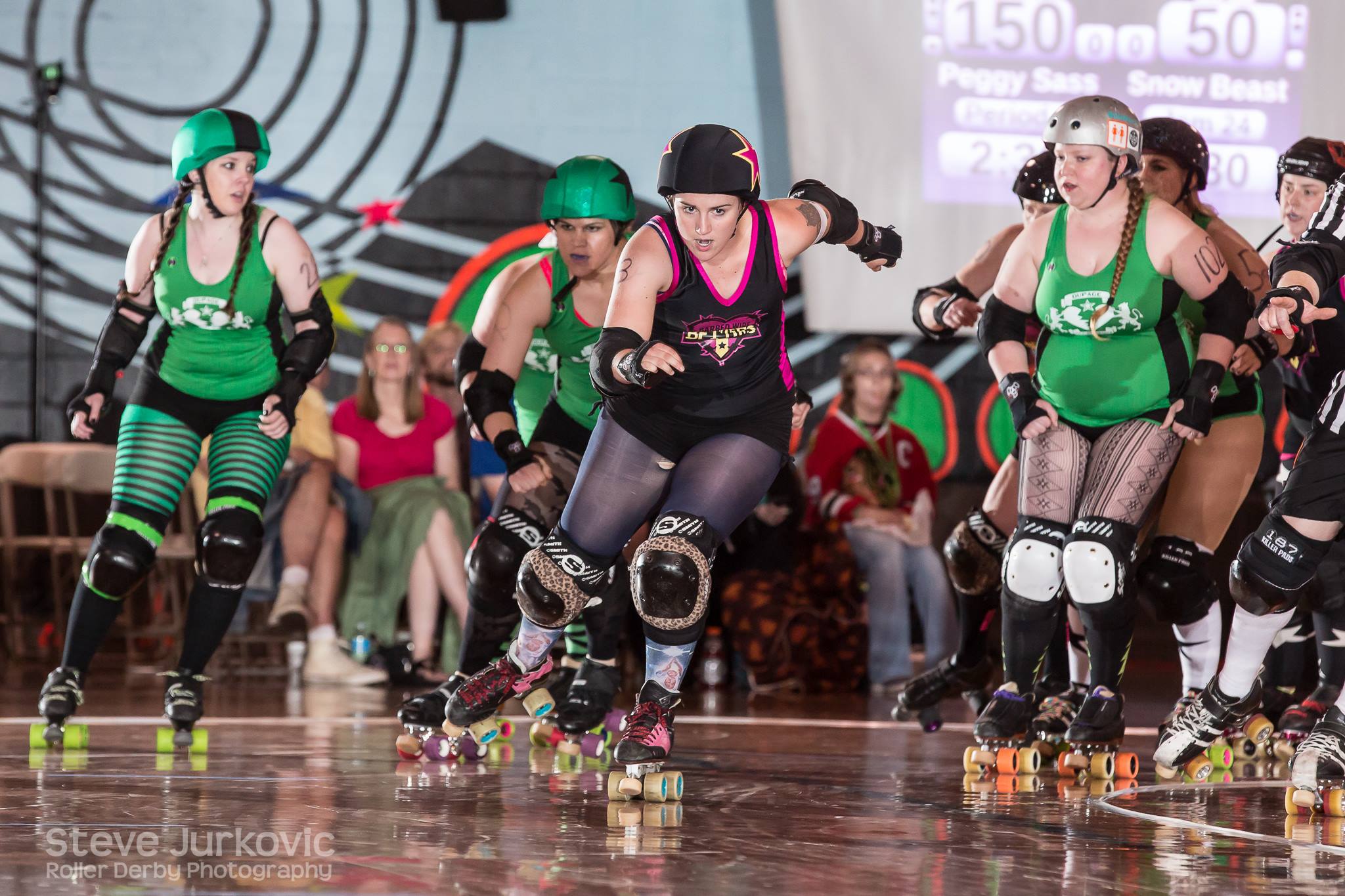 Photo Credit: Steve Jurkovic
Photo Credit: John Kilhoffer
Photo Credit: Dave Schrader
Photo Credit: Dave Schrader
Photo Credit: Steve Jurkovic