Doll-X #814, League Secretary
Legal Name: Karyn Binter
Derby Name: Doll-X
Derby Number: 814
What is the meaning behind your derby name and number?
My name is pun off of the long-time Doctor Who villains, the Daleks. They always want to "exterminate" everything around them. My number is actually my street address. My first scrimmage was a surprise to me when someone came up to me with a black marker and wanted to know what number to write on my arms. I didn't realize I was allowed to scrim yet and hadn't picked a number yet, so I just blurted out my address as the first thing I could come up with.
Why Roller Derby?
Um….because it's awesome!
Blocker, Pivot or Jammer?
Blocker all the way!
Favorite song to skate to?
I usually just block out whatever music is playing. I don't always even realize there is music playing in the background.
Do you have any pre bout rituals?What are they for Home and Away Bouts?
I'm the least superstitious person ever, so no.
Favorite Book, Movie, and Album
Book: Little House series
Movie: Fiddler on the Roof
Album: Paul Simon's Graceland
Favorite Quote
I'm so bad with quotes. I see ones I like all the time and then I can never remember them. I did see one the other day that did resonate with me though, "Just because you took longer than others doesn't mean you failed."
What do you do outside of Derby?
Operations Director for a large medical transcription company.
What advice would you have for anyone interested in derby?
Try it. Try it no matter what obstacles your brain is trying to tell you. Try it if you are scared. Try it if you think you aren't good enough. If you want it badly enough, you can make it happen.
In a few words can you explain how derby has affected your life?
There is nothing like derby to increase a person's confidence and feelings of empowerment through physical achievement and incredible camaraderie.
What are your future derby ambitions?
I definitely want to stay on skates for as long as I'm able to. After that, I will always be involved with derby in some capacity. I love it too much to not have it in my life.
Who do you admire in Roller Derby?
I really admire anyone and everyone in the "Derby Over 40" crowd. There's definitely a lot more willpower needed for this at 40 than there is at 20!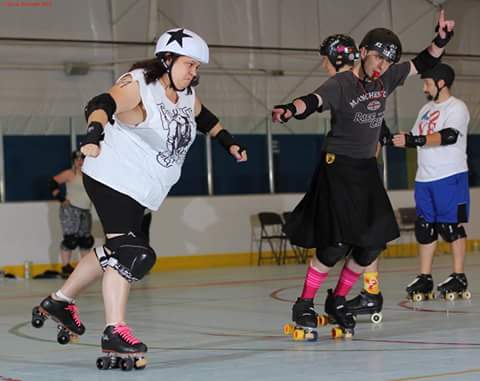 Photo Credit: Dave Schrader
Photo Credit: Dave Schrader
Photo Credit: Dave Schrader