TsunAmy #117, League Treasurer
Legal Name: Amy Gahala
Derby Name: Tsunamy
Derby Number: 117
What is the meaning behind your derby name and number?
My derby name is based on blending my love of water and chosen career (hydrologist) with something intimidating, as the tradition of derby names go. My number is my two son's birth months, 11 (Nov.) and 7 (July).
Why Roller Derby?
Why not! No really, I had no idea what roller derby was. My co-worker (and team photographer), Dave Schrader, loved to talk about roller derby and I of course had many questions. A few months later, a saw a flier for the Barbed Wire Betties Bootcamp/tryouts at Starbucks. I had recently given birth to my second son, and had needed to lose the baby pounds. I thought this might be fun to try. I am naturally competitive (but I mostly compete with myself). Always striving for self-improvement. Roller derby offered both and in more ways than I had ever imagined.
Blocker, Pivot or Jammer?
My goal is always to be good at all positions. I want to be the trifecta of a derby player, where I can do great things in the position that I am needed at the time I am needed.
Favorite song to skate to?
Too many to narrow that down, but I will pick a genre…punk rock!!
Do you have any pre bout rituals? What are they for Home and Away Bouts?
Watch derby, championship derby as much as possible. This puts me in the mindset for jamming and blocking.
Favorite Book, Movie, and Album
I don't have a favorite book, again, too many. But I love listening to books that teach you something and reading fiction. I guess I am not a "favorite" type of person. I don't exactly have a favorite anything. Not sure why that is…but I guess it is because I don't like to be pigeonholed to just one thing, when there are so many amazing choices and new forms of art, books, etc. It's kind of like, when you are a child…you have a favorite color, but when you are an adult…you love all the colors, just in specific forms or patterns. So with that…the movies I like are actions, dramas, suspense. The music I like is punk rock (Green Day, Rise Against, Antiflag, Bad Religion…to name the top four) and pop-dance (because dancing is more fun than running).
Favorite Quote
Again, not one to be a "favorite" type of person…but I will choose one that I try to live by
"Be the change you want to see in the world"…Mahatma Gandhi.
What do you do outside of Derby?
Derby is my place to be me…but outside of derby, my life consists of being the many roles that a person takes on in a given day throughout their lives. I am a mom, wife, sister, daughter, hydrologist, friend, and teacher. Outside of derby, I juggle these various roles and stress about whether I am doing a good job in any one of them. Derby lets me just focus on derby and I have measurable achievements at every practice. Outside of derby, there is no measurement after each task or role. The feedback does not come until much later, and some feedback does not come until your eulogy--hence, the constant stress and insecurity. Derby is easy compared to outside life.
In a few words can you explain how derby has affected your life?
Derby is my ground zero, where no matter what happens, I can reset, improve, and move on. It is not just the sport that I am referring to…it is the people (women and men, alike). Learning how they approach life, teach their kids, love their friends, and work at their careers is humbling. So much so, that you may get an inferiority complex just being around such greatness (that happened to me)! But then you have to remind yourself…you are among these great people too. Being among great people inspires me endlessly to reset, improve, and move on.
What advice would you have for anyone interested in derby?
Stop thinking about it and just try it. It might be the very thing that grounds you.
What are your future derby ambitions?
Continue to work at becoming the trifecta of a derby player: blocker, jammer, pivot
Who do you admire in Roller Derby?
I have many skaters that I admire. I admire the skaters that fall, but get back up; the skaters that break, but come back stronger; the non-skating officials that volunteer just because they love the game; the referees that make playing the game possible; and the relentless skaters that push themselves hard for the love of the team and the game.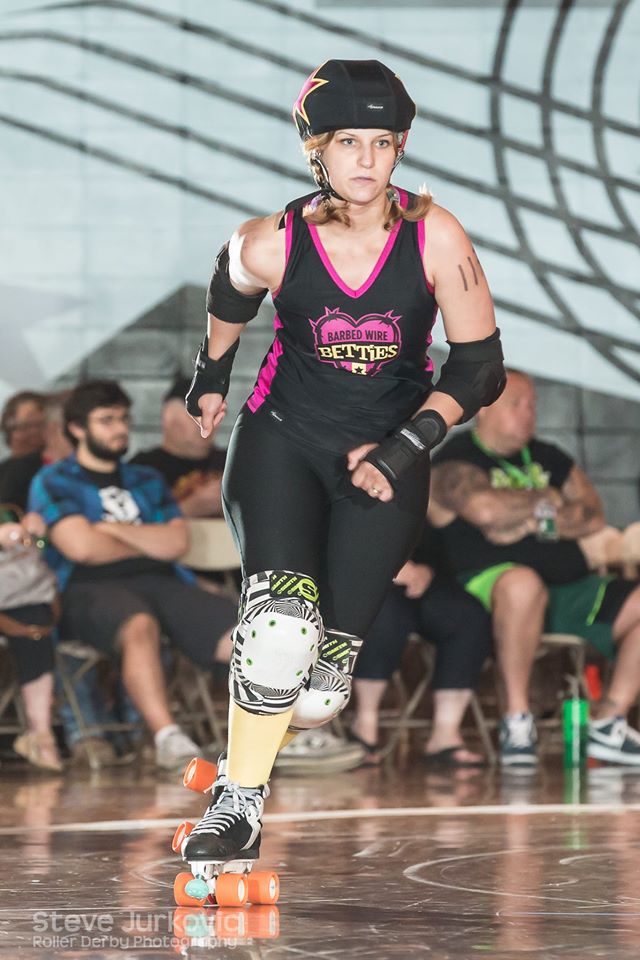 Photo Credit: Steve Jurkovic
Photo Credit: Steve Jurkovic
Photo Credit: Steve Jurkovic
Photo Credit: John Kilhoffer
Photo Credit: John Kilhoffer
Photo Credit: Dave Schrader